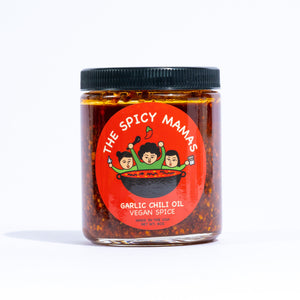 The Garlic Chili Oil
Sale price Price $10.49 Regular price Unit price / per
The Spicy Mamas
Founded in 2020 during the COVID-19 crisis, "The Spicy Mamas" is a family of female chefs looking to spice up your everyday meal. We're focused on making our famous Garlic Chili Oil available to all of you.
FEATURED ON
HuffPost | Saveur | Domino | Voyage LA |
Bon Appetit | Gear Patrol | LA Eater
Love and Care
To our supporters: Every single bottle of "The Spicy Mamas" Garlic Chili Oil is made with love and care from the Spicy Mamas family. We make our chili oil in small batches to ensure consistency and quality.
Seriously, SOOO GOOOD!!  We literally put it on everything (except our cereal and ice cream 😂)!! 
It's a good spicy level and the garlic in there is just yum.  Good job ladies..happy we found our go to chili sauce 😍
Your chili oil is A++! Way above the competition.
It's garlicky, spicy, and has plenty of oil. It's a great enhancement to many Vietnamese soups, like crab noodle soup and spicy beef soup. Can't wait to also try this with the beef rolls.
This oil chili is literally fire -- 1000% recommend!
The Spicy Mamas Gift Card
Sale price Price $30.00 Regular price Unit price / per